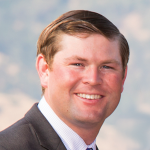 President's Message
by Frost Pauli
2019 is here! Another year come and gone. 100 years come and gone. What should we look forward to in this next year? Well… MCFB is already on the job working for you and ensuring that your membership is valuable. Remember that not only are you a member of Mendocino County Farm Bureau, but also the California Farm Bureau, and American Farm Bureau. Literally hundreds of people working for you every day, ensuring that your voice is heard in Ukiah, Sacramento and in Washington D.C.
Here at home in Mendocino County, we have plenty to look forward to working on in 2019. At the top of the list for me and the Board of Directors of MCFB is the Potter Valley Project. Ensuring that our Ag and municipal water users, as well as the environment along the Russian River have adequate water is critical, and that issue is going to be heavily addressed in 2019. Other water issues we will be focusing on in 2019 include minimum flow requirements in the Navarro River, the continued work on the Sustainable Groundwater Management Act (SGMA), and the proposed water quality waiver for vineyards and orchards. Our water committee meets monthly, if you are interested in participating contact our  office.
The cannabis industry here in Mendocino cannot be ignored. There are too many consequences of the imposing regulations that are being adopted by the county and state, which ultimately will impact other crops. Also, the county Board of  Supervisors may reconsider the allowance of cannabis cultivation on range land or other resource lands in 2019.  Plus, with the passing of the 2018 farm bill and the federal legalization of commercial hemp, there will be additional changes coming for existing California regulations regarding hemp and CBD products. MCFB has been, and will remain, focused on monitoring the cannabis regulations and related industry to ensure that our questions and concerns are addressed.
Some other issues we are watching closely include a wave of parcel taxes, transient issues and related rural crime, improving natural disaster response processes for agricultural operations and working with the county lands committee to ensure compliance and preservation of the Williamson Act here in Mendocino County.
On the political side of the spectrum, MCFB would like to congratulate two incoming County Supervisors who will be  taking up their roles in 2019. From the 3rd District, John Haschak will be joining the board as well as Ted Williams from the 5th District. We look forward to engaging both of these new leaders and working with them as often as possible over the next year. One of the things that I am proud of is the relationship that MCFB has with all of our elected officials, whether we agree with them or not. Our reputation as an organization means that we get their attention when we have something to say. The respect we have built over the last 100 years will continue to be built over this coming year.
In Sacramento, our busy Farm Bureau staff never run out of fights. The revolving door of issues is constantly swinging open towards agriculture and CFBF is there to stem the flow. No one can stop one hundred percent of the craziness, but they sure try. In 2019 we could be facing a tidal wave of new regulations considering the incoming administration and the political background they have. Environmental and water issues alone could keep all our staff people working hard, but we also know that labor issues like overtime and minimum wage, taxes, wildland management, infrastructure, and a dozen other topics will be on the list.
At the Federal level it's the same song, just a little different tune. Even though you may think that the current power holders politically are on "our team," there are still lots of concerns with laws and regulations coming out of Washington DC. Here are a couple you may have heard of that MCFB, CFBF and AFBF are working on every day: immigration reform (or lack thereof), the Food Safety and Modernization Act, Waters of the United States, the Endangered Species Act, and more.
All of these issues are being worked on right now as you read this and this coming year we will likely see actions taken on all of them.
CFBF staff in Washington DC, with their counterparts at AFBF, are testifying in front of Congressional Committees, hosting meetings with Senators and Representatives, and are in constant communication with leaders in the administration and with various department Secretaries. In 2018, Secretary of Ag Perdue visited California and met with CFBF three times, and two undersecretaries of USDA also made trips to meet with CFBF. Secretary of Interior Zinke met with CFBF twice.  Secretary of EPA Pruitt and his replacement Andrew Wheeler, both visited California and toured farms with CFBF. Assistant Secretary of Army Corp of Engineers sat down with a roundtable of FB members. And, in case you missed it, President Donald Trump himself attended and spoke at the American Farm Bureau annual meeting. However you feel about the current administration, to get that much attention from these high level individuals speaks to the importance of our organization. They look to Farm Bureau for advice and leadership on important issues. That is the power of your membership!
2019 brings a whole new chapter in the story of Mendocino County Farm Bureau. The next 100 years starts now! Thank you for being a member and I hope that you feel, like I do, that your membership is valuable. This organization is like no other.
I am proud to be your President, serving at this great milestone. Thank you and Happy New Year!
MEMBERSHIP BENEFITS
Farm Bureau members have access to a multitude of benefits and discounts.
LEARN MORE