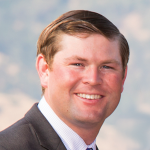 President's Message
by Frost Pauli
This is my final Presidents Message and my term as President of Mendocino County Farm Bureau (MCFB) will end in June. Looking back at the last three years I feel that we have had some successes, but I also feel that there is so much more work to be done. I am not giving up by any means. However, it is impossible not to feel at least a little bit like no matter how hard you fight, our politicians, government, and a lot of fellow citizens, do not understand what farmers and ranchers have to deal with in order to stay in business. Or they simply do not care. That is why I will always be a Farm Bureau member.
Farm Bureau is also like a branch of my family. My grandfather and father were both county presidents. I was raised going to Farm Bureau meetings with my parents. I joined a Young Farmer and Rancher committee while I was in college and through that experience I met my wife. I think that one of the best things about Farm Bureau is that where ever you go across this country, if you can find a county Farm Bureau office, you can walk in and be greeted like a member of an extended family. There will be people there who understand what you go through to be involved in agriculture. Plus Farm Bureau members and staff are some of the best and nicest people you will ever meet.
Looking back over the last three years and what our Farm Bureau has accomplished, I am proud that I was a small part of that effort. MCFB has raised and awarded nearly $100,000 in scholarships over the past three years. MCFB closed and liquidated the Mendocino County Farm Supply store, which had become a huge burden and tax on our organization, and through that process brought in a new tenant, and completely changed the dynamic of our property holdings to one in which MCFB is no longer losing money and focus. MCFB hired a third staff member to help manage membership and marketing, bringing our combined staffing up to three incredible people who work day after day so we can keep managing our businesses while they focus on fighting off more regulations. MCFB hosted tours with county supervisors, State Assembly and Senate members on farms in Mendocino County to show them the direct effects of the rules they are making. And last year while I was president, MCFB turned 100 years old!
And then there is the list of incomplete efforts. This list unfortunately never gets shorter and sometimes it feels like the list never changes. But what I can promise you is this: if not for the work of Farm Bureau, that list would be a lot longer and lot worse. If you think California is bad, imagine it without the efforts of thousands of people like you, who renew their membership to Farm Bureau every year, so that the organization can negotiate for less regulations, and less stringent ones. I get asked by people all the time how come Farm Bureau did not do anything about this law, or that new regulation. My answer is this: Farm Bureau did work on that. In fact, every single new state and federal law that is brought forward is scrutinized by our staff, and the ones that they deem to be harmful to our businesses, they absolutely take action on. Unfortunately, the wins that they get are usually small and unnoticeable because we only see the final outcome. But the fact is that without these efforts, regulations would be much, much worse.
I am very excited about the future of Mendocino County Farm Bureau. We are incredibly lucky to have such a great staff, and they are the ones that do the heavy lifting for the organization. Taking my place as President will be George Hollister from Comptche. George has been a Director of MCFB since 1985.  His experience will without doubt help steer the organization in the right direction.
Thank you for the opportunity to serve as president of MCFB.
MEMBERSHIP BENEFITS
Farm Bureau members have access to a multitude of benefits and discounts.
LEARN MORE