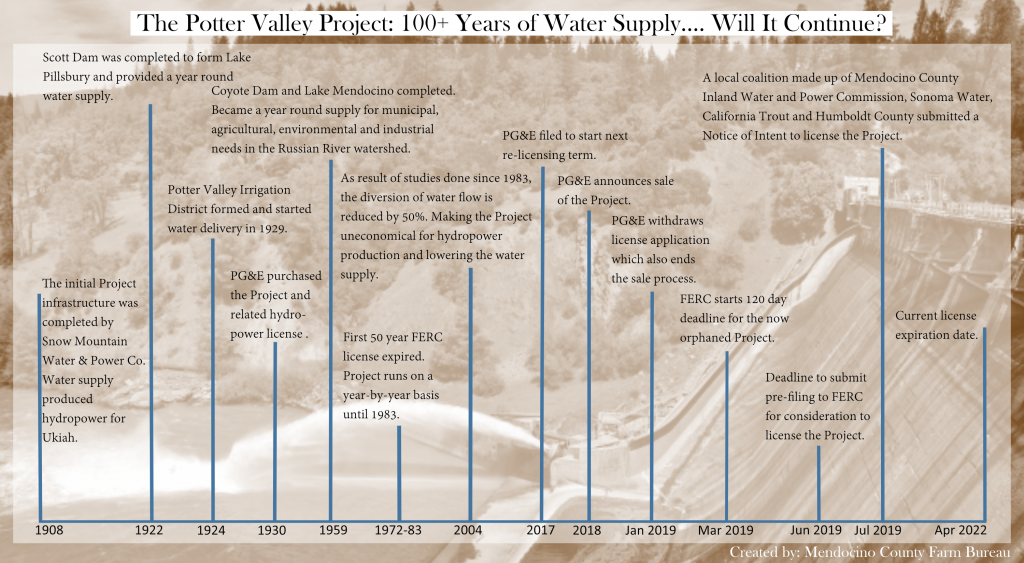 Mendocino County Farm Bureau supports local control of the Potter Valley Project.
The support of our membership is what allows us to continue to host events that educate the public and work on critical issues such as water supply. As a member, you will continue to receive updates on the latest developments in the licensing and sale of the Project through your e-letter subscription. Please contact our office if you have an updated e-mail address. If you are not a member, please consider joining the united voice of Farm Bureau.
Taking Action
Funded Fuller Digital Media to video record the August 23rd Eel Russian River Commission meeting, view meeting.
Developed a postcard to provide our community with an opportunity to speak to their elected officials. View more information under the Community Education section.
Hosted a free community meeting to provide updates on the Potter Valley Project licensing process; slideshow, handout and video can be found under "Community Education" below.
For 15+ years we have been providing water tours to the public to provide a hands-on understanding of the water system.
Keeping our members informed with new developments through our quarterly newsletter and our e-letter subscription.
Provided a free event at Mendocino College to view and discuss the documentary, "A River's Last Chances."
Donations
MCFB has hired a professional communications company to assist in developing messaging and outreach materials so that we can continue to expand our educational campaign related to the Potter Valley Project and related licensing process. The goal of this campaign is to work with the various interests and communities that benefit from the Project so that there is a broad-based understanding of the importance of maintaining the power and water supply. If you are interested in contributing to this effort, donations are being accepted. Please click on the DONATE button below or contact the MCFB office for additional information.
---
Project Information
Potter Valley Project FERC Licensing Progress Update: October 2020
Comments on Scoping Document 3
On July 28th, the Federal Energy Regulatory Commission (FERC) issued a Notice Soliciting Scoping Comments for the Potter Valley Project with a deadline of submitting comments by August 27th.

The public scoping process is intended to support and assist FERC with the environmental review process to ensure that all pertinent issues are identified and analyzed so that the Environmental Impact Statement (EIS) is thorough and balanced. The EIS will be used by FERC to determine whether, and under what conditions, to issue a new license for the Project.
MCFB submitted comments on Scoping Document 3 which can be seen HERE
The full text of Scoping Document 3 can be found HERE
(Note: the two links above are from the FERC website. If you receive a download error, please try clicking the link again. You should see a download box appear to view the documents.)
Timeline for Future Actions
Within Scoping Document 3, a timeline was provided as Appendix A for a process plan and schedule for the licensing. This is a general timeline, but a good reference to review. Appendix A can be seen HERE
Initial Study Report Now Available
Mendocino County Inland Water and Power Commission, Sonoma County Water Agency, California Trout, Inc., the County of Humboldt, California, and the Round Valley Indian Tribes (together, NOI Parties) submitted a an Initial Study Report (ISR) to FERC in mid September. The ISR describes the overall progress in implementing the study plan and schedule and the data collected, including an explanation of any variance from the study plan and schedule. The full Initial Study Report can be found HERE.
Comments on the initial study report are due November 13th and must be submitted via the FERC online comment submission portal. Comments up to 6000 characters can be submitted HERE and longer comments can be submitted HERE.


If you would like to sign up to receive updates related to any future filings connected to the Potter Valley Project, you can do so by visiting the FERC website and going to the e-subscription page. If you have not registered with FERC, you will have to register before proceeding with the e-subscription. Once registered you can sign up to receive information related to docket P-77-000, which is the Potter Valley Project.
The recent filing is one of many milestones to be accomplished in getting to the FERC licensing deadline of April 14, 2022. The process will continue to evolve, and we will all have to be engaged in shaping the final outcome. If there are any questions regarding the comment process, please feel free to contact the MCFB office.
COMMUNITY EDUCATION
COUNTY RESOLUTIONS
ADDITIONAL WEBSITE RESOURCES
---
Supporting Partners
---