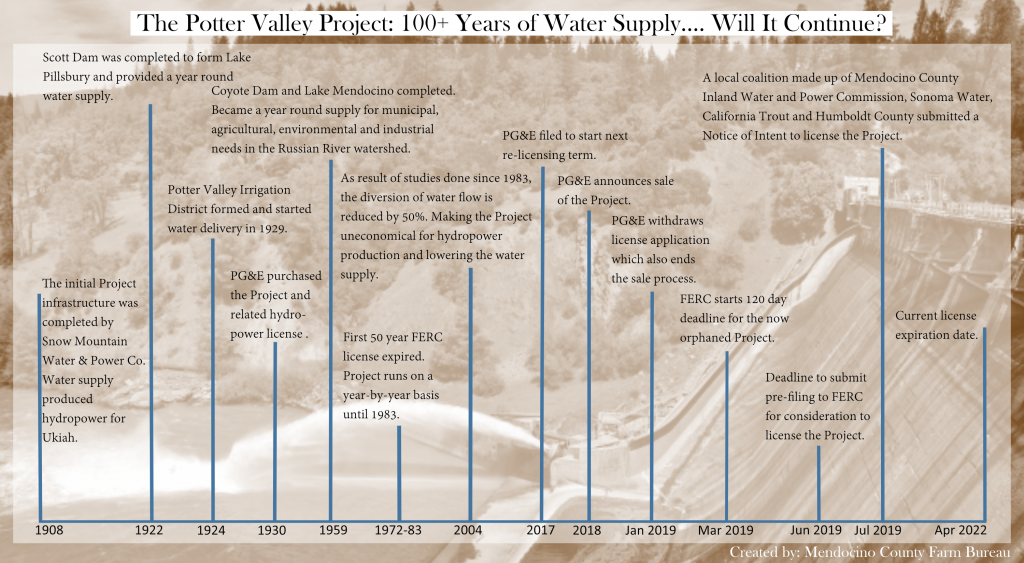 Mendocino County Farm Bureau supports local control of the Potter Valley Project.
The support of our membership is what allows us to continue to host events that educate the public and work on critical issues such as water supply. As a member, you will continue to receive updates on the latest developments in the licensing and future of the Project through your e-letter subscription. Please contact our office if you have an updated e-mail address. If you are not a member, please consider joining the united voice of Farm Bureau.
Taking Action
Developed a postcard to provide our community with an opportunity to speak to their elected officials. View more information under the Community Education section.
For 15+ years we provided water tours to the public to provide a hands-on understanding of the water system.
Keeping our members informed with new developments through our quarterly newsletter and our e-letter subscription.
Donations
MCFB has hired a professional communications company to assist in developing messaging and outreach materials so that we can continue to expand our educational campaign related to the Potter Valley Project and related licensing process. The goal of this campaign is to work with the various interests and communities that benefit from the Project so that there is a broad-based understanding of the importance of maintaining the power and water supply. If you are interested in contributing to this effort, donations are being accepted. Please click on the DONATE button below or contact the MCFB office for additional information.
---
Project Information
Potter Valley Project Update: July 2022
Licensing Update
On May 11th, FERC submitted a response to PG&E requesting a license surrender plan to be submitted within 60 days. Also included was an ask of PG&E to explain how they will plan to respond to the earlier requests from the National Marine Fisheries Service (see March 16, 2022 letter below) related to making amendments to the current license operations for fishery purposes. The full notice can be seen HERE.

On July 8th, PG&E submitted a response to FERC's May 11th correspondence described above. The response briefly described PG&E's plan and schedule for the surrender application of the Potter Valley Hydroelectric Project. There was not a lot of detail provided, but it was stated that, "30 months after approval from FERC of the Plan and Schedule (as described in Figure 1 from the July 8th letter) PG&E will file with FERC the Potter Valley Project surrender application and decommissioning plan." 30 months seems very optimistic. The full letter from July 8th can be seen HERE.
On July 11th, PG&E sent separate correspondence in response to FERC's May 11, 2022 letter pertaining to NMFS' March 16, 2022 filing. As stated by PG&E, " This letter responds to FERC's letter and NMFS' unsupported assertions regarding Project operations. The NMFS letter contains legal and factual inaccuracies. Part I of this response outlines the legal framework that applies and corrects the factual record, demonstrating that there is no basis for reinitiating consultation or reopening the license. Part II of this letter also responds to the specific proposed "interim" measures suggested in the NMFS letter. As noted above, PG&E continues to operate its Project consistent with the existing license pending approval of license surrender and decommissioning activities." The full letter from July 11th can be seen HERE.
The National Marine Fisheries Service (NMFS) submitted a letter to FERC on March 16, 2022 with several requests related to the current operation of the Project and listed fish species. This correspondence can be seen HERE.
Flow Variance
On May 13th, PG&E filed a flow variance with FERC. The reason for the variance is stated to protect storage and to preserve water in the cold/cool water pool for fishery needs. Lake Pillsbury has been operating under a Normal year designation. On May 15th, releases into the East Fork Russian River increased from 35 CFS to 75 CFS. The flow variance is asking for the approval to go to a critical release to the East Fork of 5 CFS (with no buffer) with the potential to increase to dry year release flows of 25 CFS depending on storage in Lake Pillsbury. Potter Valley Irrigation District will remain on demand based scheduling for water contract releases.The full variance request can be seen HERE.
Comments on the variance were due to FERC on June 9th. MCFB submitted written comments which can be seen HERE
As of July 19th, there has not yet been a response from FERC on the flow variance request following the close of the comment period on June 9th.

If you have concerns about where a future licensing and/or decommissioning process may go and how it will impact your water supply, you are encouraged to voice this concern. Since FERC is a Federal Agency, our federal representatives connected to the Project need to hear from their constituents. See contact information below. MCFB also has postcards available at our office that can be sent to local, state and federal elected officials.
Congressman Huffman: (202) 225-5161
Congressman Garamendi: (202) 225-1880
Congressman Thompson: (202) 225-3311
** All numbers are in Washington D.C. on EST**
Water Supply Update
The latest storage curve for Lake Pillsbury can be seen below.
PG&E revealed in late October 2021 that an electric transformer necessary for the operation of the powerhouse had degraded to a point that it was at risk of failing. Preliminary estimates indicate an expected timeline of 18 to 24 months to design, manufacturer, and install, with a cost in the $5 to $10 million range. In February, it was announced that PG&E has, "concluded it is beneficial to PG&E's electric generation customers to proceed with the work necessary to return the powerhouse to full operational status." No specific timelines for the repairs were presented, but overall this is positive news. More info can be seen in the article HERE.
Until the transformer unit is repaired, PG&E is not able to run water through the powerhouse to make power and has only been bypassing the minimum amount of water as required by their license for the East Fork Russian River and the Potter Valley Irrigation District. The reduced diversion has impacted, and will continue to impact, the water storage levels in Lake Mendocino.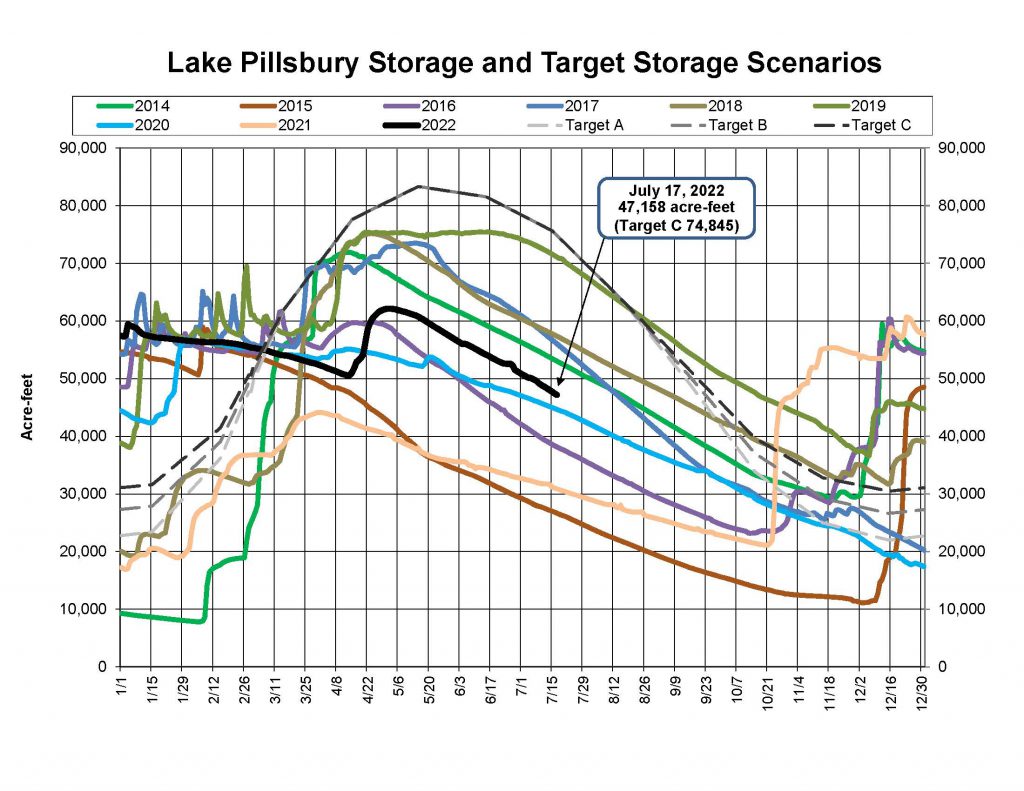 COMMUNITY EDUCATION
COUNTY RESOLUTIONS
LICENSING INFORMATION

Initial Study Report
Mendocino County Inland Water and Power Commission, Sonoma County Water Agency, California Trout, Inc., the County of Humboldt, California, and the Round Valley Indian Tribes (together, NOI Parties) submitted a an Initial Study Report (ISR) to FERC in mid September 2020. The ISR describes the overall progress in implementing the study plan and schedule and the data collected, including an explanation of any variance from the study plan and schedule. The full Initial Study Report can be found HERE.

Timeline for Future Actions
Within Scoping Document 3 released by FERC in July 2020, a timeline was provided as Appendix A for a process plan and schedule for the licensing. This is a general timeline, but a good reference to review. Appendix A can be seen HERE

File Disagreements and Requests to Amend Study Plan
Stakeholders were able to file disagreements and requests to amend the study plan on November 13, 2020. MCFB submitted comments which can be found HERE. The main points of conversation were related to the importance of analyzing impacts to water users in the newly introduced studies of AQ12 and SE1.

Response to Comments on Initial Study Report
The NOI Parties provided a response to comments document on December 14, 2020. The response document can be found HERE.

FERC Determination
FERC was scheduled to release a "Director's determination on disagreements and amendments " on January 13, 2021. The document was finally released from FERC on March 16, 2021. The document can be seen HERE

Abeyance Request
In a letter dated September 2, 2021, the partner entities (IWPC, Sonoma Water, Cal Trout, Humboldt County and Round Valley Tribes) submitted a request to the Federal Energy Regulatory Commission (FERC) for an abeyance (temporary suspension) in the current schedule for the licensing as provided by FERC until May 31, 2022. Also included in the notice are a series of technical memorandums discussing sedimentation analysis from possible dam removal scenarios and an overview of work completed to date by the partners on the license related studies. The full document can be seen HERE

On September 23,2021, FERC responded to the request for an abeyance. Within this response, FERC granted an abeyance, but only through April 14, 2022 to coincide with the current license expiration date. In addition, FERC requested that the partner entities submit a status report on the process of forming the Regional Entity that will be ultimately filing the Project license application and a plan for gathering the information needed to support the license application, including completing the required studies, within 60 days (approximately mid November). It was also requested by FERC that an additional progress report be submitted by January 31, 2022, if the Regional Entity is not formed by the due date for the first 60-day progress report. The full FERC response can be seen HERE.

FERC Update Letter
In relation to the licensing efforts, the partner entities submitted an update to FERC on November 22, 2021 which can be seen HERE. The letter is a progress report to FERC and is NOT a declaration that the partners have abandoned the licensing process.

Status Report
The partner entities submitted a status report to FERC on January 31, 2022. The status report provides follow up information to FERC from the November correspondence mentioned above. The full letter can be seen HERE

License Expired
The current license for the Project expired on April 14, 2022. The efforts by the partner entities (Mendocino County Inland Water and Power Commission, Sonoma Water, Round Valley Indian Tribe, County of Humboldt and Cal Trout) were not successful to submit the required license application information by the April 14th deadline.

PG&E Directed by FERC to Operate Under Year to Year License
On April 21, 2022, FERC provided a notice stating that PG&E has been authorized to continue to operate the Project under a year-to-year license or until the issuance of a new license for the project or other disposition under the Federal Power Act, whichever comes first. Currently the annual extension would be until April 14, 2023. The letter from FERC can be seen HERE.

If you would like to sign up to receive updates related to any future filings connected to the Potter Valley Project, you can do so by visiting the FERC website and going to the e-subscription page. If you have not registered with FERC, you will have to register before proceeding with the e-subscription. Once registered you can sign up to receive information related to docket P-77-000, which is the Potter Valley Project.
ADDITIONAL WEBSITE RESOURCES
---
Supporting Partners
---