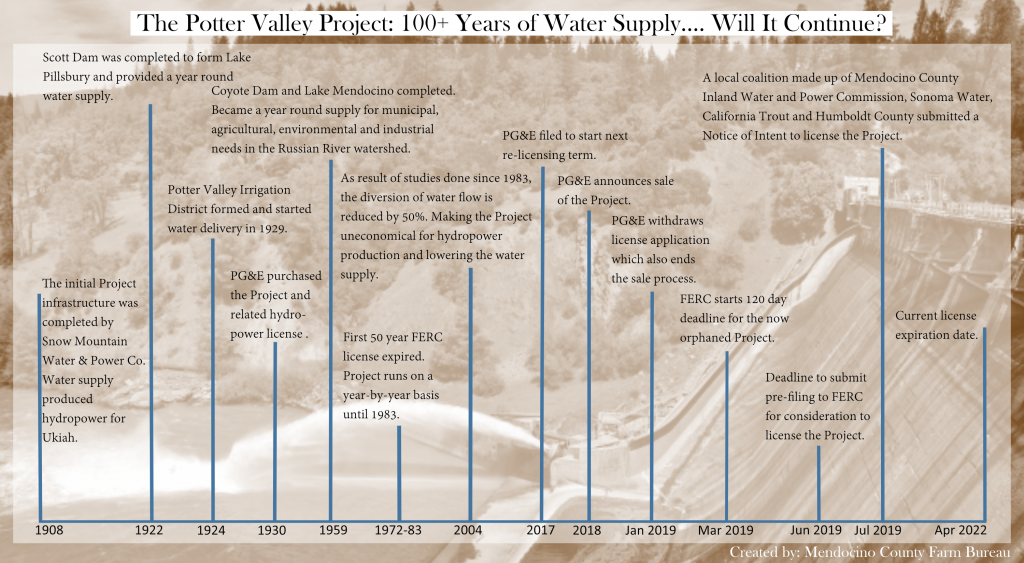 Mendocino County Farm Bureau supports local control of the Potter Valley Project.
The support of our membership is what allows us to continue to host events that educate the public and work on critical issues such as water supply. As a member, you will continue to receive updates on the latest developments in the licensing and future of the Project through your e-letter subscription. Please contact our office if you have an updated e-mail address. If you are not a member, please consider joining the united voice of Farm Bureau.
Taking Action
Developed a postcard to provide our community with an opportunity to speak to their elected officials. View more information under the Community Education section.
For 15+ years we provided water tours to the public to provide a hands-on understanding of the water system.
Keeping our members informed with new developments through our quarterly newsletter and our e-letter subscription.
---
Project Information
Potter Valley Project Update: January 2023
Licensing Update
On November 16, 2022, FERC released a notice of proceeding to consider reopening license and soliciting comments, motions to intervene and comments as a response to the letters filed by the National Marine Fisheries Service (NMFS) on March 17, 2022 and October 17, 2022 ( for copies of these letters, please refer to licensing information tab below). NMFS requested that FERC exercise its reserved authority to require additional protective measures, that NMFS deemed necessary on the current annual Project license to protect listed salmonid species. In a July 12, 2022 letter, PG&E declined to volunteer to file an amendment application to adopt NMFS' proposed measures. The November 16th notice can be seen HERE
Comments on the November 16th filing were due on December 16, 2022. Below are some of the comments submitted.
Mendocino County Farm Bureau Comments
Inland Water and Power Commission Comments
Project Operations Update
The Project has not been producing power since mid 2021 due to a transformer bank failure in the power house. PG&E has stated that they planned to replace these components and would provide updates to FERC. On December 15, 2022, PG&E notified FERC that: "PG&E is currently in the process of considering long-term planning associated with Power Generation's portfolio. As a result, numerous projects are being reassessed to ensure resources are utilized prudently, including the Potter Valley transformer replacement project. PG&E will complete this assessment and update FERC with our decision regarding the replacement project by April 15, 2023."
This means that for the winter of 2023, once again, there will be no power produced and no water delivered through the power house into the Russian River. The only water that will continue to be delivered will be through the power house bypass which is a limited amount.
Also, on December 13, 2022, PG&E filed a joint application for approval of transfer of licenses with FERC to transfer close to all of PG&E's current non-nuclear licenses, including the license for the Potter Valley Project, from PG&E to Pacific Generation. The application can be seen HERE.
Flow Variance
On May 13, 2022, PG&E filed a flow variance with FERC. The reason for the variance is stated to protect storage and to preserve water in the cold/cool water pool for fishery needs. The full variance request can be seen HERE.
On July 27,2022, FERC approved the flow variance request effective immediately. The approval can be seen HERE. For the Russian River, this meant that releases through the Project and into the East Fork stayed at 5 CFS for the duration of the variance. This was a significant reduction from the typical water supply provided by the Project during summer and fall.
On December 27, 2022, the storage levels at Lake Pillsbury went over 36,000 acre feet due to the winter storms. With this climb in storage levels, PG&E ended the variance and flows via the Project bypass into the East Fork Russian River increased from 5 CFS to 45 CFS + a 5 CFS buffer.
For current water supply graphs for Lake Pillsbury, Lake Mendocino and Lake Sonoma, please click HERE
If you have concerns about where a future licensing and/or decommissioning process may go and how it will impact your water supply, you are encouraged to voice this concern. Since FERC is a Federal Agency, our federal representatives connected to the Project need to hear from their constituents. See contact information below. MCFB also has postcards available at our office that can be sent to local, state and federal elected officials.
Congressman Huffman: (202) 225-5161
Congressman Thompson: (202) 225-3311
** All numbers are in Washington D.C. on EST**
COMMUNITY EDUCATION
COUNTY RESOLUTIONS
LICENSING INFORMATION

Initial Study Report
Mendocino County Inland Water and Power Commission, Sonoma County Water Agency, California Trout, Inc., the County of Humboldt, California, and the Round Valley Indian Tribes (together, NOI Parties) submitted a an Initial Study Report (ISR) to FERC in mid September 2020. The ISR describes the overall progress in implementing the study plan and schedule and the data collected, including an explanation of any variance from the study plan and schedule. The full Initial Study Report can be found HERE.

Timeline for Future Actions
Within Scoping Document 3 released by FERC in July 2020, a timeline was provided as Appendix A for a process plan and schedule for the licensing. This is a general timeline, but a good reference to review. Appendix A can be seen HERE

File Disagreements and Requests to Amend Study Plan
Stakeholders were able to file disagreements and requests to amend the study plan on November 13, 2020. MCFB submitted comments which can be found HERE. The main points of conversation were related to the importance of analyzing impacts to water users in the newly introduced studies of AQ12 and SE1.

Response to Comments on Initial Study Report
The NOI Parties provided a response to comments document on December 14, 2020. The response document can be found HERE.

FERC Determination
FERC was scheduled to release a "Director's determination on disagreements and amendments " on January 13, 2021. The document was finally released from FERC on March 16, 2021. The document can be seen HERE

Abeyance Request
In a letter dated September 2, 2021, the partner entities (IWPC, Sonoma Water, Cal Trout, Humboldt County and Round Valley Tribes) submitted a request to the Federal Energy Regulatory Commission (FERC) for an abeyance (temporary suspension) in the current schedule for the licensing as provided by FERC until May 31, 2022. Also included in the notice are a series of technical memorandums discussing sedimentation analysis from possible dam removal scenarios and an overview of work completed to date by the partners on the license related studies. The full document can be seen HERE

On September 23,2021, FERC responded to the request for an abeyance. Within this response, FERC granted an abeyance, but only through April 14, 2022 to coincide with the current license expiration date. In addition, FERC requested that the partner entities submit a status report on the process of forming the Regional Entity that will be ultimately filing the Project license application and a plan for gathering the information needed to support the license application, including completing the required studies, within 60 days (approximately mid November). It was also requested by FERC that an additional progress report be submitted by January 31, 2022, if the Regional Entity is not formed by the due date for the first 60-day progress report. The full FERC response can be seen HERE.

FERC Update Letter
In relation to the licensing efforts, the partner entities submitted an update to FERC on November 22, 2021 which can be seen HERE. The letter is a progress report to FERC and is NOT a declaration that the partners have abandoned the licensing process.

Status Report
The partner entities submitted a status report to FERC on January 31, 2022. The status report provides follow up information to FERC from the November correspondence mentioned above. The full letter can be seen HERE

License Expired
The current license for the Project expired on April 14, 2022. The efforts by the partner entities (Mendocino County Inland Water and Power Commission, Sonoma Water, Round Valley Indian Tribe, County of Humboldt and Cal Trout) were not successful to submit the required license application information by the April 14th deadline.

PG&E Directed by FERC to Operate Under Year to Year License
On April 21, 2022, FERC provided a notice stating that PG&E has been authorized to continue to operate the Project under a year-to-year license or until the issuance of a new license for the project or other disposition under the Federal Power Act, whichever comes first. Currently the annual extension would be until April 14, 2023. The letter from FERC can be seen HERE.

License Surrender and Decommissioning Plan
On May 11,2022, FERC submitted a response to PG&E requesting a license surrender plan to be submitted within 60 days. Also included was an ask of PG&E to explain how they will plan to respond to the earlier requests from the National Marine Fisheries Service (see March 16, 2022 letter below) related to making amendments to the current license operations for fishery purposes. The full notice can be seen HERE.

On July 8, 2022, PG&E submitted a response to FERC's May 11th correspondence described above. The response briefly described PG&E's plan and schedule for the surrender application of the Potter Valley Hydroelectric Project. There was not a lot of detail provided, but it was stated that, "30 months after approval from FERC of the Plan and Schedule (as described in Figure 1 from the July 8th letter) PG&E will file with FERC the Potter Valley Project surrender application and decommissioning plan." The full letter from July 8th can be seen HERE.

On July 28, 2022, FERC submitted a response to the May 20, 2022, filing for a request for rehearing, reconsideration, and/or discretionary action regarding the FERC issuance of the annual Project license to PG&E that was approved on April 21, 2022. The rehearing request was submitted by Friends of the Eel River, Pacific Coast Federation of Fishermen's Associations, Institute for Fisheries Resources, Trout Unlimited, and California Trout (collectively, Petitioners) alleging that the annual license is not in compliance with the Endangered Species Act (ESA). The full text can be seen HERE. Take note of the last page, where one of the FERC Commissioners makes a statement worth reading.

On July 29, 2022, FERC's released correspondence to PG&E, NMFS, U.S FWS and the CA Office of Historic Preservation in response to the July 8th PG&E notice of license surrender and timeline for decommissioning. FERC designates the licensee (PG&E) as the non-federal representative for various consultation requirements that will occur, outlines what is required in the license surrender application and also states that FERC expects a surrender application to be filed within 30 months, January 2025. The full letter can be seen HERE.

Also on July 29,2022, several fishery NGOs submitted comments in response to FERC's approval of the PG&E license surrender timeline in the document described above. The entities offer an alternative timeline to complete the surrender and decommissioning plan from the proposed 30 months to 22 months. The full letter can be seen HERE.

PG&E Responds to FERC Related to NMFS Letter
On July 11, 2022, PG&E sent separate correspondence in response to FERC's May 11, 2022 letter pertaining to NMFS' March 16, 2022 filing. The full letter from July 11th can be seen HERE.

The National Marine Fisheries Service (NMFS) submitted a letter to FERC on March 16, 2022 with several requests related to the current operation of the Project and listed fish species. This correspondence can be seen HERE.

On August 15,2022, FERC submitted a letter to NMFS that was in relation to the March 17th NMFS filing regarding consultation under the Endangered Species Act (ESA) and the Essential Fish Habitat (EFH) provisions of section 305(b) of the Magnuson-Stevens Fishery Conservation and Management Act (MSA) for operations at the Potter Valley Hydroelectric Project No. 77. FERC required a response from NMFS within 60 days. The full text can be seen HERE.

If you would like to sign up to receive updates related to any future filings connected to the Potter Valley Project, you can do so by visiting the FERC website and going to the e-subscription page. If you have not registered with FERC, you will have to register before proceeding with the e-subscription. Once registered you can sign up to receive information related to docket P-77-000, which is the Potter Valley Project.
ADDITIONAL WEBSITE RESOURCES
---
Supporting Partners
---