Upcoming Health and Safety Trainings
View our calendar for upcoming trainings and workshops.
Health and Safety
Mendocino County Farm Bureau has an inventory of safety related materials available including various signage (samples below), labor law requirement posters (set of 4), a safety training video/DVD lending library and a number of tailgate training handouts.  Please stop by or call the office to see how we can assist you with your safety needs!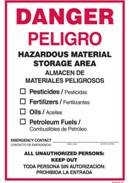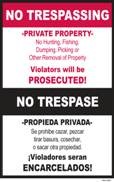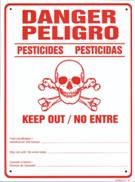 Heat Illness
Fire Safety
Safety Training Materials
Maintaining electrical systems and machinery
From Nationwide Insurance
The following information is provided by Nationwide, the #1 farm and ranch insurer in the U.S.
If not detected and corrected early, excessive heat due to problems with electrical or mechanical systems can lead to equipment failures, lengthy production shut-downs and catastrophic fires.
More than two-thirds of electrical system failures can be prevented by having a routine preventive maintenance program. In fact, the failure rate of electrical equipment is three times higher for components that aren't part of a scheduled preventive maintenance program.
Infrared thermography is the practice of using specialized electronic cameras to identify heat patterns and, in special situations, to measure temperatures. The most typical type of thermography cameras produce live and still images of heat radiation, called thermograms or thermographs. Thermal imaging cameras can detect very minor temperature differentials that can be useful in analyzing potential problem areas in your electrical production equipment.
Benefits of thermographic surveys
Early detection of problem areas, allowing sufficient time to acquire replacement parts or perform necessary maintenance
More accurate estimates of equipment life span
Reduction or prevention of emergency maintenance
Improved overall productivity and profitability
Who should consider thermographic surveys?
Businesses with very limited operational seasons that cannot tolerate even minimal downtime
Businesses with continuous multiple shifts, which do not permit extended maintenance periods
Operations with critical equipment that could pose a severe bottleneck to production, or which have a substantial replacement lead time
Businesses with budgets that want to reduce maintenance costs
Nationwide maintains a staff of trained Level 1 certified thermographers available to conduct site surveys of your facility. Associates are located in Alabama, California, Iowa, Nebraska, North Carolina, Ohio and Oklahoma, but surveys outside of these states can be arranged.
Upon completion of the site survey, a report is provided that includes thermal images of any potential problem areas and recommendations for corrective actions
To learn more or to request a thermal imaging survey, contact your agribusiness risk management consultant at Nationwide by calling 1-800-228-6700 or visit nationwide.com/cfbf.
Products underwritten by Nationwide Agribusiness Insurance Company, Farmland Mutual Insurance Company, Allied Property and Casualty Insurance Company and AMCO Insurance Company. Products and discounts not available to all persons in all states. Nationwide, the Nationwide N and Eagle and Nationwide is on your side are service marks of Nationwide Mutual Insurance Company. © 2018 Nationwide.
MyNSightOnline.com features extensive risk management and safety expertise articles. Nationwide customers can log into MyNSightOnline to access additional risk management tools, resources, training and worker's compensation information developed specifically for farmers and ranchers. Simply visit Farm.NationwideAgribusiness.com to log in or click "Sign up for account access." For help signing up, contact the Farm Service Center at 1-800-418-3188.