California Air Resources Board Approves FARMER Funding Program
On March 23, 2018 at the California Air Resources Board (CARB) meeting  in Riverside, the Funding Agriculture Replacement Measure for Emission Reductions (FARMER) program was approved.  The FARMER funding will be used to provide $135,000,000 in funding statewide to provide incentives for the replacement of: agricultural harvesting equipment, heavy-duty trucks, agricultural pump engines, tractors and other equipment used in agricultural operations.
The majority of the FARMER funding has been allocated to the San Joaquin Valley ($108,000,000) and to sixteen other specific air districts based on the each districts reported emission levels from farm equipment.  Eighteen air quality districts, including the  Mendocino County Air Quality Management District, were combined into the "districts with less than 1% of statewide emissions from farm equipment" category and have been allocated $5,572,100. Funding is scheduled to be made available from 2019-2021.
Mendocino County does not have degraded air quality, but farmers, ranchers and businesses in the county are still mandated to comply with statewide CARB regulations.  This is why Mendocino County Farm Bureau (MCFB) Executive Director, Devon Jones, attended the March 23rd hearing to testify on behalf of the 1% counties and to encourage the CARB members and staff to expedite the funding distribution process for the 1% counties.
The FARMER monies can help to offset the cost of replacing qualified agricultural engines prior to a compliance mandate. For example, Tier 0 or Tier 1 stationary diesel irrigation engines that are registered with the Mendocino Air Quality Management District will need to be replaced by 2020-2021.  FARMER funding can help to offset the $25,000+ cost of engine replacement prior to 2020.
MCFB will continue to engage with the Mendocino County Air Quality Management District,  CARB and California Farm Bureau Federation in order to provide information to our members on how to apply for the FARMER funding. For more information, pleas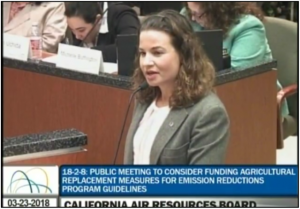 e contact MCFB at (707) 462-6664.
Pictured: Devon Jones, MCFB Executive Director, testifying at the March 23rd CARB meeting in Riverside.
AG & NE Stickers
Under the California Air Resources Board Truck and Bus Rule, diesel trucks that are identified on the reporting forms as being agricultural vehicles must have affixed or painted labels with an AG identification that meets regulation specifics. Truck owners must permanently affix or paint an AG identification label on the right and left door of each limited-mileage and specialty agricultural diesel vehicle in their fleet. For more information on the Ag Vehicle Extension, please visit:  http://www.arb.ca.gov/msprog/onrdiesel/documents/fsag.pdf
The same identification requirements apply to vehicles that qualify for the NOx exempt areas of the state except these trucks are labeled with an NE identification. For more information on the NOx exempt areas, please visit: http://www.arb.ca.gov/msprog/onrdiesel/documents/fsnoxexempt.pdf
How to Purchase:
Mendocino County Farm Bureau has AG and NE stickers that meet regulation standards (samples below) available at the MCFB office. Stickers are $1/each for MCFB members and $2/each for non- MCFB Members.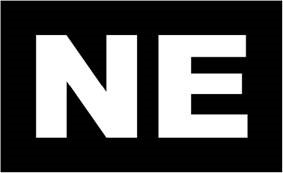 For more information:
On-Road Heavy-Duty Diesel Vehicles (In-Use) Regulation Information and Reporting
CARB Truck Stop: Diesel Regulation Information
CARB In-Use Off-Road Mobile Agricultural Equipment Regulation
California Pollution Control Financing Authority
Mendocino County Air Quality Management District
Sonoma County Air Districts and District Maps
Diesel Engine Requirements: